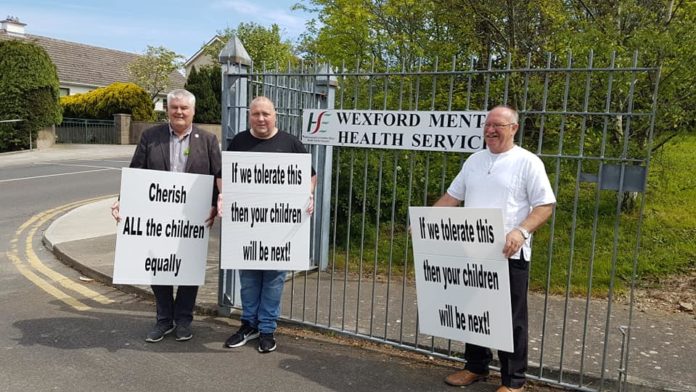 STAFF working in mental health services in Wexford are continuing to resign, citing "burnout and unworkable conditions" in an overstretched and under-resourced, Child and Adolescent Mental Health Services (CAMHS) .
According to Raymond Shannon of Wexford Mental Health Warriors, a Wexford based psychologist is due to leave at the end of May, putting even more pressure on a service that already cannot keep up with demand.
South Wexford is reportedly among the very worst areas in the country when it comes to CAMHS.
Parents from Wexford Mental Health Warriors recently spoke to RTE Radio's Sean O'Rourke about the lack of services and recounted their own stories in the hope of prompting action from the Government and the HSE.
we need answers from the Minister
"We've been getting brilliant coverage on the issue," Mr Shannon said. "But now we need answers from the Minister. Under the Government's 'Vision for Change' plan there should be 11 staff per population of 50,000. In Wexford South we have 5.5 staff for 80,000 people.
"These are the Government's own figures and recommendations."
It is almost a year since Dr Kieran Moore resigned as a consultant child psychiatrist in Wexford, citing completely unsuitable work conditions that were 'not fit for purpose' at Slaney House, with staff "feeling completely overwhelmed and burnt out".
Since Dr Moore's resignation, Wexford has only been covered at weekends by a consultant psychologist travelling from Galway.
While the HSE has confirmed that it will be relocating CAMHS services from "outdated and unfit for purpose" Slaney House to the refurbished Arden House in Whitemill, the proposed move has been consistently delayed.
Independent TD Mick Wallace last week raised the matter in the Dáil and expressed his dismay at the notion that it could be September by the time the new facility would be open.
"I understood in September 2018, following a meeting with Minister Daly, that Arden House would be open in a matter of weeks."
In November, he was told Arden House would open in the first quarter of 2019. Now it looked like it could be September.