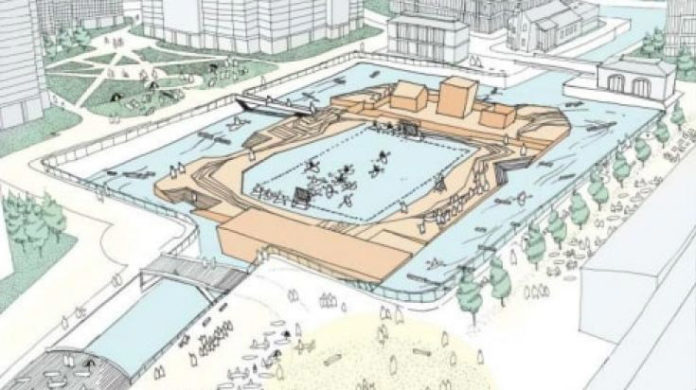 WORK could begin next year on a white-water rafting attraction in the IFSC.
It is intended as a tourist attraction and for use by sports clubs but will also be made available to Dublin Fire Brigade and other emergency services for training. It will have an inner reservoir of water surrounded by the white-water rafting course.
Cafes already located along the CHQ building will overlook the attraction on George's Dock, adjacent to the Irish Immigration Museum. The dock has been used to host Christmas markets and Spiegeltent concerts at Oktoberfest, but has been largely derelict for some time.
The team behind Smart Cities, an arm of Dublin City Council, has produced a 3-D vision of what the attraction will look like. Jamie Cudden, head of the Smart Cities initiative said offering a visualisation of the project will "create a more informed discussion" on what the project will mean for local businesses and residents.
really exciting project for the docklands
"This is a really exciting project for the docklands and I think a lot of people are talking about animating the area, and this water animation strategy brings a lot of life to this," he said.
"It's something different as well, and shows the combination of all these things that will be great additions for the area and the local  amenities."
The cost of developing the white-water rafting course is estimated to be around €22 million and will be provided through a combination of grants and council funding.
It is expected to take up to 18 months to build the facility.  The development requires approval from Dublin City Council.
invaluable for local and national recreational water-sport users
Councillors from the area have supported it and several clubs and members of the public have made submissions in its favour.
David Henry, of the Silver Bridge Kayak Club said: "I am a recreational kayaker and in the past have had to travel to Britain to avail of similar facilities in preparation for expeditions further afield. Such a scheme would be invaluable for local and national recreational water-sport users."
If approved, it is planned to operate the facility from early morning until around 10pm at night, with part of the daily timetables blocked out for fire and emergency services training.