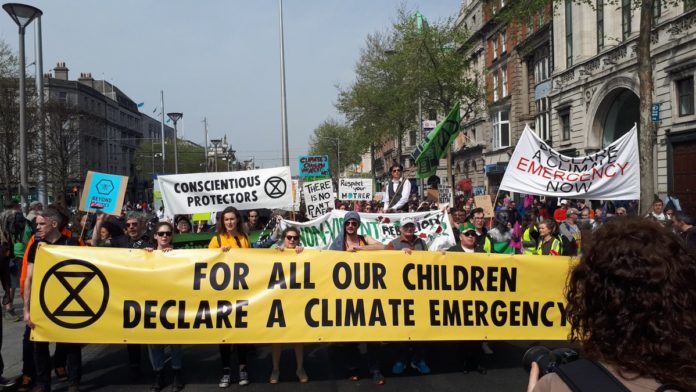 More than a 100 years since the Easter Rising of 1916, rebels have again taken to the streets of Dublin – but this time to in the battle against climate change.
Up to 500 climate change activists took part in a demonstration in Dublin city centre on October 7 as part of a week long campaign of protests and disruption by environmental activist group Extinction Rebellion.
The demonstration made its way from Leinster House to Merrion Square, where a rally is being held, while a camp was set up by the activists in Merrion Square.
The group is joining up to 50 other countries in what it is calling 'Rebellion Week' and began its activities by handing in its demands to four Government buildings.
Traffic and businesses in Dublin city centre were disrupted throughout the week.
sensationalist scaremongering
The group said the aim is to disrupt business and to raise awareness of demands on the Government to tackle the climate emergency after traditional methods, such as writing letters, had  failed.
Each day specific themes and activities will be decided at a makeshift camp in the city centre.
Public transport operators said they will monitor the situation and work with gardaí and authorities to minimise disruption.
A spokesperson for the group said the protests would cause some disruption, but she added they would be focused on Government and industry, rather that causing problems for the general public.
Susan Breen told RTÉ's Morning Ireland that a lot of different events are planned but there has been a lot of "sensationalist scaremongering" in the media.
Ms Breen explained that she joined Extinction Rebellion because she is the mother of young children and she is "terrified" for their precarious future.
She said the group's aim is not to cause problems for the public and urged anyone with ideas to come and talk to them over the course of the week.