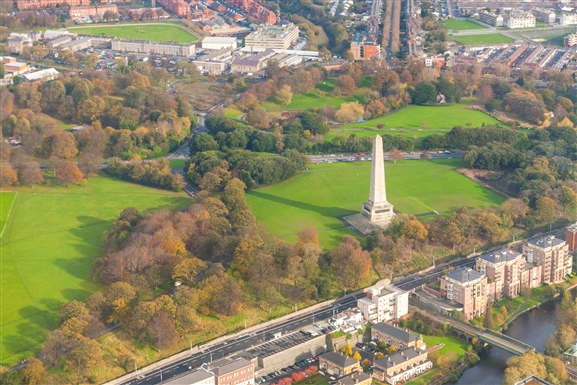 AN electric, driverless shuttle could help visitors explore the 1,752-acre Phoenix Park and visit sites such as the Wellington Monument.
That is one of the suggestions included in a strategic review of the park by the Office of Public Works, Fáilte Ireland and the Department of Culture, Heritage and the Gaeltacht.
The aim is to increase the tourism potential in the park and to enhance the existing facilities.It proposes treating the park as five sections.
The Welcome Quarter
It would have new visitor buildings, and a more stripped-back entrance at Parkgate Street.
"We envisage an opportunity for a clean paved surface, free of the overt trappings of vehicular traffic," says the review.
The Central Line
The central line runs along Chesterfield Avenue, and could include temporary and permanent art installations. The review suggests installing seating areas, sundecks, fountains and picnic tables.
A circuit training layout, children's activities and refreshment kiosks could also be developed. Pedestrians, cyclists and roller-bladers will be given priority with potential room for skateboarding. A series of quieter spaces would be created off the line for sitting in different landscaped atmospheres to view the moving life of the park.
unique features that comprise the Phoenix Park will be conserved and protected
The Activity Quarter
A new education centre could be created in an existing exhibition building. An outdoor adventure area and nature trail could be created using hard and soft landscaping.
The Biodiversity Quarter
A new welcome area, including visitor building could be created in the Biodiversity Quarter. Educational, recreational and leisure facilities could also be developed in the space.
The Commemorative Quarter
This plan would see the Magazine Fort enhanced with a bridge connecting the War Memorial Gardens.
Minister for the OPW, Kevin 'Boxer' Moran hopes the plan will cement Phoenix Park's place as "One of the truly great parks of the world". He also said "the unique features that comprise the Phoenix Park will be conserved and protected".
The draft review can be seen on the OPW website until April 12 and you can have your say at phoenixpark.ie/visitor-experience-strategic-review/