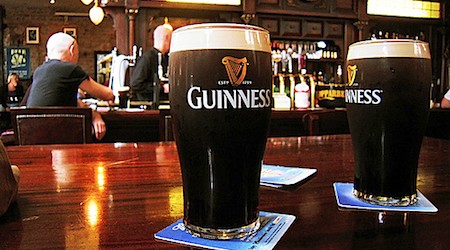 DUBLINERS are early risers, regular users of public transport and more likely to live alone than people in any other part of the country. We are also the biggest binge drinkers, according to new figurers from the Central Statistics Office (CSO).
Newly released data shows nine in ten Dubs say they have six units or more on a night out.
CSO statisticians looked at 70 indicators of how people live their lives across the country. They covered everything from how much we drink to the speed of our Internet connections.
The results show one in ten people in Dublin are at risk of poverty, a relatively low rate. The number grows to one in four in the Border region.
Commuters in the Dublin area are most likely to get up early in the morning. More than 30% of people in the greater Dublin region say they leave for work before 7:30am. Dublin has the lowest number of private cars, 495 for every 1,000 people over the age of 17, a reflection of the city's better public transport. Roscommon, with 645, is the county with the biggest car ownership.
One in six Irish drivers have penalty points – the rate is as high as 21% in Wexford and Galway but just 13% in Donegal and Louth. In Dublin, the rate is 16.5%.
The CSO figures also reveal that almost nine in ten people in Dun Laoghaire-Rathdown have broadband access.
The Dun Laoghaire Rathdown local authority disrict has the highest number of women councillors (42.5%), the biggest number of homes using natural gas for heating (74%) and the most houses with broadband access (86%).
The fertility rate in Dublin is now below the theoretical replacement level of 2.1, having dropped to 1.65. Longford, where couples are producing an average of 2.25 offspring, is the most fertile county.
But immigration means population replacement will not be a problem. Almost 15% of Dublin's population is recorded as non-Irish. The highest figure (18.6%) is in Galway city.
The statistics show that only 7.6% of people in Kilkenny are living alone. The highest rate by far is in Dublin city where flat-dwelling singletons push the figure to 58%.
The Irish economy has grown faster than any other in the European Union since 2014.
The figures, just published, are for the years 2016 and 2017. A separate set of CSO figures show that the average Irish annual pay grew by more than 4% in the last quarter of 2018 for the first time since the global financial crisis a decade ago.