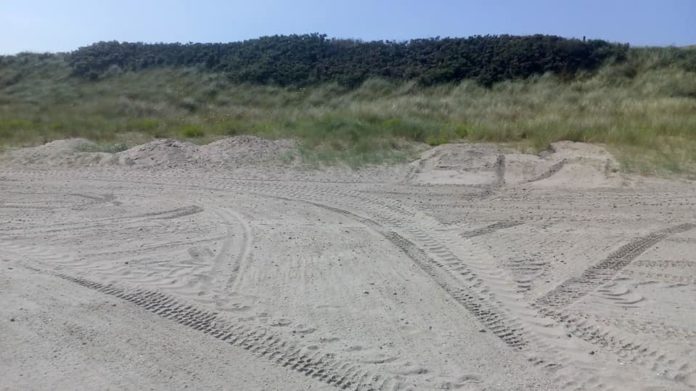 MECHANICAL diggers are being used by Fingal County Council to clean up beaches across North Dublin despite An Taisce recommending the local authority stop the practise.
The council has been criticised by local and environmental groups for its handling of waste on beaches its manages by accusations that the authority is destroying the coastline. Daily, JCB diggers are used for cleaning the beach but locals claim the council is collecting the rubbish alongside seaweed and loosening the sand.
According to the Donabate Portrane Clean Coasts group, as a result of these operations, the amount of sand along the coastline is depleting and rubbish is being deposited into the sea when the tide comes in.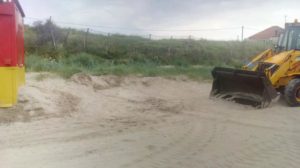 The rubbish found in the seaweed in a video shared by Earl Fitzgerald of the Donabate Portrane group includes plastic and wet wipes. "What Fingal County Council are doing is they're burying the rubbish here. They're not taking it off the beach, they're actually burying it here.
"For the last three years we've been telling Fingal County Council, that water safety officer, head of operations, some of the councillors on the council, to stop using JCBs on the beach.
"What it's doing – it actually lowers down the beach. All this sand here, it's so loose, it blows away in the wind and when it dries it goes out to sea.
"They come at 5 o'clock in the morning, with a JCB, and they scrape all the seaweed which is natural. It's a food for the curlews but you won't actually see any curlews here, our curlews are all gone, " he said.
you wouldn't do this in Phoenix Park, you wouldn't do this in Croke Park
The curlew species of bird is considered "near threatened" due to a decreasing population globally.
"This is the seaweed, which is a food source for the sand hoppers. There's also plastic here, there's dog dirt, there's a nappy," Mr Fitzgerald role DublinLive.
"They don't remove the rubbish from the beach. What they're doing is, they're burying the rubbish which then gets brought out to sea. You wouldn't do this in Phoenix Park, you wouldn't do this in Croke Park.
"Three years – we've been going to meetings, photographs, videos, everything. It's absolute destruction. Grain by grain, we're losing all our beaches in Fingal." The council said that, in the coming days, each of the mounds of seaweed would be unravelled to find and remove litter, on the recommendation of An Taisce.