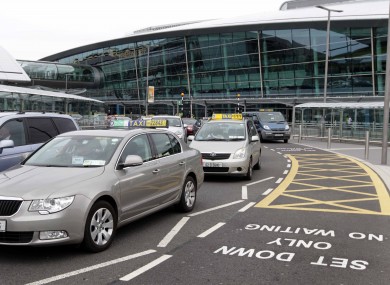 THE re-introduction of pick-up and luggage charges at Dublin Airport would encourage more taxi drivers to provide services at the gateway, according to the Irish Taxi Drivers' Federation.
The call by the federation's president, Joe Herron, comes as Dublin Airport launches a consultation process aimed at improving the frequently criticised taxi service there.
Mr Herron said that any shortages of taxis at the airport, particularly during the evenings, were usually because drivers can get more fares working in the city centre.
If there is work in the city centre, it is not advantageous to travel out to the airport
"If there is work in the city centre, it is not advantageous to travel out to the airport," said Mr Herron. He suggested a pick-up fee could be €2 a passenger and that a luggage fee could be introduced at 50 cent a bag. A €1.50 airport pick-up charge and 70 cent luggage fee were abolished by the then taxi regulator in 2006, leading to protests by taxi drivers.
A spokesman for Dublin Airport, which is operated by the semi-State Dublin Airport Authority (DAA), said it would not pre-judge the outcome of the consultation process.
He said the consultation was inviting views from stakeholders including licence holders, taxi firms, transport and tourism bodies, business groups, consumer representatives, disability groups and other interested users.
"There are some sectoral issues that are affecting the provision of taxis generally at peak times in Dublin and these are also likely to be discussed within the remit of the consultation," he said.
Services such as a premium product, ride-sharing, and even a minimum fare are all possible outcomes from the consultation.
"We want to work collaboratively with all stakeholders to deliver an improvement in the overall taxi product at the airport," said the spokesman.
Dublin Airport has experienced a big rise in passenger numbers in recent years. Last year, 31.5 million passengers used the gateway, compared to just under 30 million in 2017.
Mr Herron pointed out that on top of their normal running costs – which the National Transport Authority reckons are about €23,500 a year for an experienced taxi driver in a standard vehicle – taxi drivers must pay €440 a year to secure a permit to operate at Dublin Airport.
There are currently about 1,450 permit holders at Dublin Airport. On a typical day, between 800 and 900 permit holders operate at the airport, making about 4,000 pick-ups.