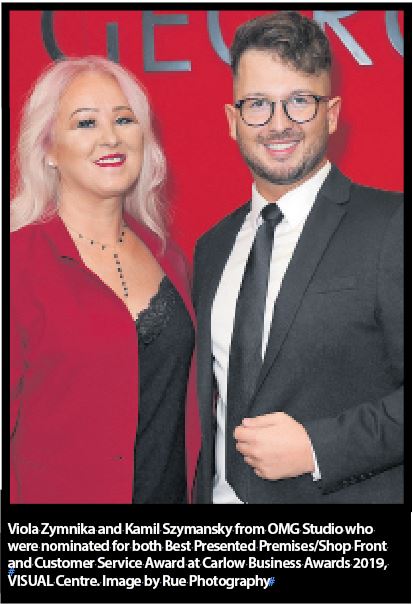 CODD Mushrooms has been named Carlow Business of the Year at the annual Chamber Awards ceremony in Visual.
Planning and Design Solutions won the Outstanding Small Business of the Year. The Culture, Tourism and Heritage Award went to Scarefest and Studio Dancewear were named Carlow's hidden gem.
While Family Business went to Burnside Autocyl, Caroline Kelly said: "We're absolutely thrilled to have received the award, yeah it means a lot to us, we are a family business through-and-through and on the bigger scale the company is a family enterprise in every sense of the word and not just by blood relatives, all the people in the company are part of the Burnside family so we're really thrilled."
it means a lot to us, we are a family business through-and-through
TileNStyle in Carlow have been left "over the moon" after they won Customer Service of the Year at the Carlow Business Awards last week.  The business said: "To say we are shocked is an understatement. Totally over the moon to have been nominated let alone to have won the Customer Service Award at the Carlow Chamber Awards 2019.
"Thank you to all our customers who nominated us. We are very grateful to each and every one of you. Not only do we win a trophy and a framed certificate but we also get this cool logo for the next year. We're still pinching ourselves this morning after winning this award last night at the Carlow Chamber Awards. It's extra special for us us to win this award as our customers really are so important to us and to be acknowledged by them is amazing."
Hundreds of people gathered in Visual in Carlow last Thursday evening as the annual Chamber Awards took place.
There were 24 awards including a Community Award, Best Presented Shopfront, a Spirit of Carlow Award, and the highly-sought-after Business of the Year Award. Rachel Doyle of the Arboretum in Leighlinbridge has also been announced as the recipient of this year's Lifetime Achievement Award.