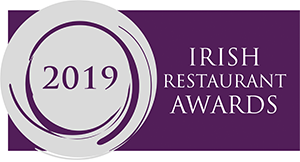 SIXTEEN Co Carlow winners took part in the Leinster regional final of the Irish Restaurant Awards at the Killashee House Hotel recently where the top restaurants in Leinster countyies for 2019 were announced.
More than 600 restaurant owners and staff celebrated their achievements at the awards.
The finals will be held in the Clayton Hotel, Dublin on Monday, May 13th.
The 16 Cartlow contestants are:
Best Restaurant – Sponsored by Tindal Wine Merchants
Carlow- Sha-Roe Bistro
Best Chef – Sponsored by Nisbets
Carlow- Henry Stone of Sha-Roe Bistro
Best Newcomer
Carlow- Walter's Bar & Grill
Best Restaurant Manager – AIB MS
Carlow- Alma Sheehan of Plum Tree Bistro
Best Hotel and Guesthouse Restaurant – Sponsored by BWG Food Service
Carlow- The Cellar Restaurant at the Step House Hotel
Best Customer Service – Sponsored by Lockton
Carlow- LENNONS @ VISUAL
Best Gastro Pub – Sponsored by Elavon
Carlow- Teach Dolmain
Best Cafe – Sponsored by Illy
Carlow- Birdcage Café
Pub of the Year – Sponsored by Jameson Caskmates
Carlow- Osbourne's Bar
Best Wine Experience – Sponsored by Gilbeys
Carlow- Lord Bagenal Inn
Best World Cuisine
Carlow- New Moon Tandoori
Best "Free From" – Sponsored by Peroni Gluten Free
Carlow- Basil Asian Street Food
Best Kids Size Me
Carlow- Tea Rooms at Duckett's Grove
Best Local Food Hero – Sponsored by Rewarding Times
Carlow- Eva Milka of Gaelic Escargot
Best Emerging Irish Cuisine – Sponsored by Odaios
Carlow- Riverbank Restaurant
Best Casual Dining – Sponsored by Just Eat
Carlow- Plum Tree Bistro