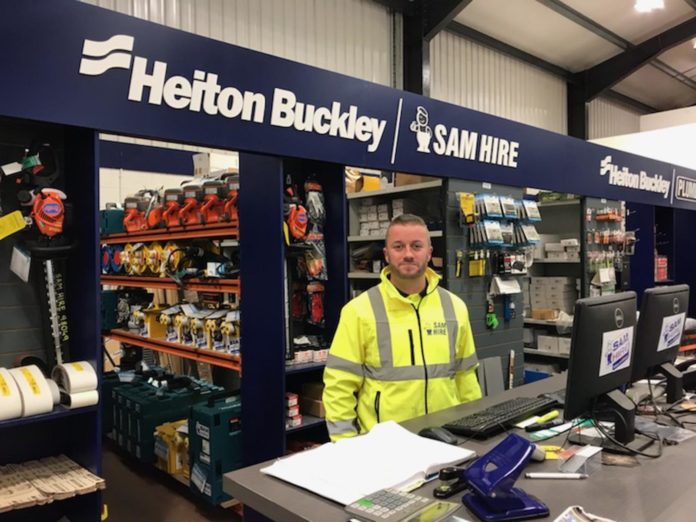 Keith O'Neill from Carlow town will be taking on the Four Peaks Challenge over the course of the May Bank Holiday weekend to raise much needed funds for charity.
He is part of a 22 strong team from Grafton Merchanting ROI, which includes brands such as Chadwicks and Sam Hire who will take on the Four Peaks Challenge for four Irish charities – Focus Ireland, CMRF Crumlin, Pieta House and Cystic Fibrosis Ireland.
Keith works in Sam Hire in Carlow town and together with the rest of his colleagues he will travel across the country as part of the mountain ascension challenge.
The route they will navigate will be Slieve Donard in Co. Down; Lugnaquilla in Co. Wicklow; Carrauntoohil in Co. Kerry and Mweelrea in Co. Mayo. The challenge will take place from the 2nd to 5th of May, with Grafton Merchanting ROI aiming to raise in excess of €40,000 for the four charities that have been chosen with great care.
Focus Ireland: As the homelessness crisis worsens in Ireland, 10,000 people in Ireland are considered homeless, Focus Ireland are on the frontline changing lives daily, challenging homelessness and supporting those most at risk.
CMRF Crumlin: The monies raised for CMRF Crumlin will go towards the Diabetes Clinic which provides necessary treatment for children.
Pieta House: Pieta House provides specialised treatment programmes for people who have suicidal ideation and supports for families affected.
CF Ireland: Ireland has the highest incidence of Cystic Fibrosis in the world. More than 1,200 people in Ireland suffer from the disease. CF Ireland was set up 1963 to improve the treatment and facilities for people with Cystic Fibrosis in Ireland.
I have always wanted the opportunity to do a challenge like this and the fact it's for charity made up my mind to go for it.
The team at Grafton Merchanting ROI have been training hard for the demanding four-day challenge but Keith says it has been easy to stay motivated. Keith said: "I have always wanted the opportunity to do a challenge like this and the fact it's for charity made up my mind to go for it."
Speaking about the challenge, Patrick Atkinson, CEO, Grafton Merchanting commented: "Grafton Merchanting ROI is aiming to raise important funds for four richly deserving charities in Ireland, by undertaking the Four Peaks Challenge. Grafton Merchanting ROI has a long and proud history of working with and donating to charities who raise funds for those most in need in Ireland. On behalf of all the team here in Grafton Merchanting ROI, I would like to wish the chosen team of 22 employees all of the best in this endeavour."