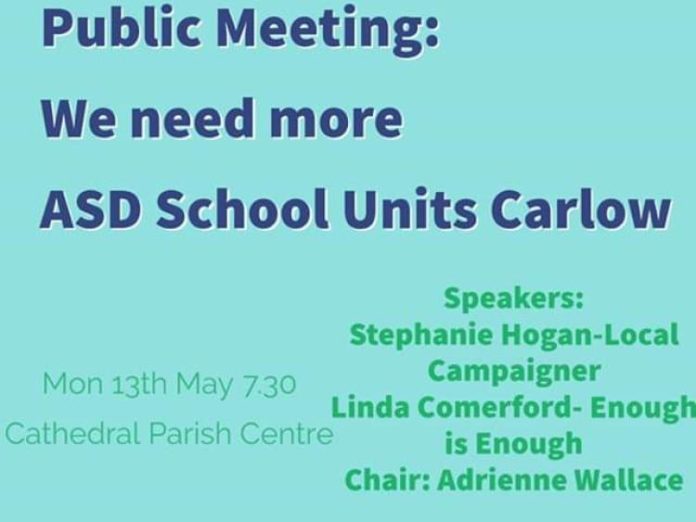 A CAMPAIGN focusing on the lack of special classes for children with autism, or ASD units as they're commonly known, in Carlow town has been launched.
Currently only one school in the town is providing these classes. Children from the town have to leave their local area and travel in order to get an education.
It is not good enough
Campaigner Stephanie Hogan from Open Your Doors – ASD Inclusion, and who is the mother of  child with autism said: "It is not good enough that in 2019  parents are struggling everyday to get their children educated within an appropriate setting that meets their needs.
Also children are leaving their local communities to get access to classes. Children with autism should have the same rights as any other child when seeking a school place within their own community."
Mainstream classes aren't always the best setting for a child with Autism. Depending on the needs of the child, a special needs school may be more suitable to provide the level of support required. Alternatively, some students may be able to attend an Autism Class within a mainstream school which will allow them to integrate into a mainstream school community, participate as far as possible in the curriculum, but with additional supports and resources in the areas they find difficult to cope with.
A public meeting will take place on Monday, May 13th, at 7.30pm in the Cathedral Parish Centre. Ms Hogan is encouraging parents to attend this meeting as its vital to get your voices heard.
Ms Hogan will be joined by Linda Comerford from the campaign group Enough is Enough: Every Voice Counts which has been very vocal on the lack of support and services for children with special needs.
A special class for autism has a 6:1 pupil teacher ratio. The class will operate under the authority of the Board of Management. Two special needs assistants (SNAs) will be allocated to each class.