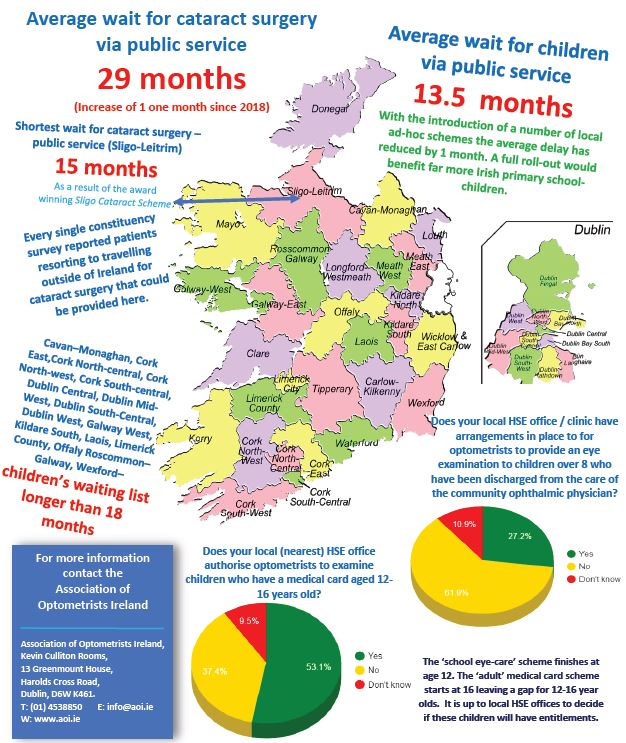 According to the Association of Optometrist Ireland's 2019 Children's Eyecare & Cataract Survey, people in Carlow/Kilkenny constituency who are referred to the Hospital Eye Service due to cataract wait on average 36 months between being referred due to reduced vision and having the surgery to restore sight.
People in the same constituency who can afford to pay for private care wait on average less than 3 months for the same operation.
Cataract surgery is a life-changing procedure that can restore the sight of elderly people giving them back their independence and reducing the cost of preventable sight loss on the exchequer, families and carers. After surgery all patients need a post-op review to make sure that the eye is healthy and vision acceptable. The majority of people who have cataract surgery do not have complications.
In the award-winning Sligo Cataract Scheme these people were examined in the community by Optometrists at the same time as their appointment to get new glasses, which is also needed after cataract surgery. Combining these two appointments in the community saves money – and also allows people who need to see the Doctor in the hospital quicker access (as the waiting list is not blocked by people who are essentially healthy).
Other findings in the survey discovered that children in Carlow–Kilkenny are waiting up to 12 months to access the Community Ophthalmic Physician (COP); it has been agreed that children over-8 should be seen in the community by optometrists. Implementation on a national basis of this policy would reduce this unnecessary delay.
Good vision is essential for children to participate and benefit from education. The early years of visual development are key to ensuring that children do not have developmental problems that will restrict their ability to achieve their potential
Children's eyesight develops from birth and as children grow so quickly, so can their eyesight change rapidly. While a small number of children do develop serious conditions that require medical intervention and supervision, the majority who develop issues with their sight can be managed with a regular eye examination and the prescribing of spectacles.
However, early identification and management of children at risk of lazy eye (amblyopia) and squint (strabismus) is compromised by the volume of children who simply need spectacles waiting on the current waiting lists for service.
In addition, the HSE has made a decision to abolish the 6th Class vision screening and has not yet put in place a national policy to replace this.
The association is calling on the Minister for Health to –
Roll out a national scheme to allow children who do not need medical or
surgical management to be examined in the community by Optometrists.
Roll out the award winning Sligo Cataract Scheme across the country
with Optometrists and Hospital Eye Departments working together.